Lifestyle blogger and guest contributor on The QWork Future, Jessica Theiefels provides tips on how to become a better manager.
At one point or another, we've all had a terrible boss — and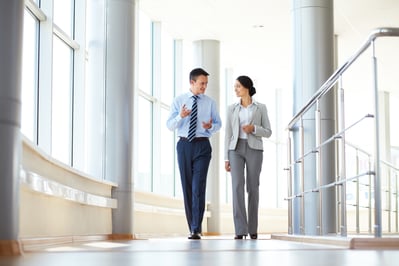 if you're in a management position, you'd do anything to avoid becoming that person. But what does it even mean to be a good manager?
While everyone has their own definition, every manager can benefit from being supportive, listening to employees, motivating during hard projects, and staying involved without micromanaging.
Luckily, there are a many ways you can work to improve these management skills, ensuring growth and productivity of your team and the business. Use these six simple tips to encourage happiness among employees and become a better manager.
1. Have an Open Door Policy
As a manager, your employees should always feel comfortable coming to you for direction. If you have an open door policy from the get-go, they're more likely talk to you about important matters, whether they're unhappy in their position or need support on a project. Unfortunately, managers can be intimidating to employees, even if you don't feel that you are.
Combat this by being involved in their day-to-day as someone to lean on and work with in an open and relaxing environment. While this isn't always possible, it's important to make a priority when the time allows for it.
2. Provide Support and Motivation
According to a 2016 analysis, the number one fear of Americans is failure. Your employees are no exception, and are likely worried about being seen as a failure in your eyes on a regular basis.
As their manager, you can reduce this anxiety by providing support and motivation. Not only does this make them feel good as they work through a challenging project, but being involved gives you a chance to help correct before something goes wrong—this saves everyone time and anxiety.
3. Build and Nurture a Passionate Team
Your employees are not just employees; they're your team, which is why it's important to hire people that have the same vision for your business as you do. Once you've built a strong team, it's time to develop their positions and invest in them. Millennial employees will be especially hungry for opportunities to prove themselves and grow in their new careers.
If you spend this time to get to know your employees and empower them, they'll be more loyal to the company, allowing you to build and nurture a strong team that contributes to the success of your business. A great rule of thumb for this comes from successful entrepreneur, Ted Rollins: "Build a smart tribe. Pick great team members and provide them with an environment they can flourish in."
4. Give Credit When Credit is Due
One of the best ways to ensure your team is being productive is to acknowledge their work and progress often. In a recent survey from The Office Club, 29 percent of respondents said that acknowledging progress is the value they admire most in a supervisor, motivating them to work harder.
Luckily, it's easy to give kudos to employees on a regular basis. If you have a hard time remembering, build it into your weekly team meetings. Each week, write a shout-out into your meeting agenda. This is an opportunity to call out one or a few employees for the work they did the week before.
5. Set Obtainable Goals
In order to be successful and make money, businesses must set goals that motivate everyone to keep working hard. As a manager, you should set goals for your employees that are realistic and attainable, but still feel just out of reach.
Goals not only give your employees a sense of purpose, but when achieved, make them feel successful—sometimes that's all the motivation they need to hit the ground running on the next project, or in the next quarter.
To make goals more effective you can:
Track progress: Talk about where you're at and where you need to be at weekly meetings and track in real-time, as progress is made.
Incentivize: Few things motivate your employees more than great incentives. Consider what your employees love and choose wisely. Gift cards, extra days off, and spot bonuses are always popular options.
6. Monitor Productivity Closely
As a manager, time management is a critical part of your job. You need to stay on top of deadlines, meetings, and new projects to be a good role model for your employees. If you don't care, employees will think, "If my boss doesn't care, then why should I?"
If you have that under control, but struggle with keeping track of whether employees are managing their time, start doing weekly check-ins or one-on-one meetings. Remind employees that this isn't about micro-managing, rather it's an easy way to communicate their needs in terms of hitting deadlines and getting around road blocks.
If you find employees are still struggling to manage their time, host a time management workshop, where employees can share the tactics they use to stay productive. Things like this not only help everyone improve time management, but build a culture of productivity that benefits everyone in the office.
Being a better manager doesn't require extensive webinars and long conference sessions. A few simple tweaks can help you improve your skills and become better at managing the employees that are looking to you for guidance and support.